Introduction
Kingli Hardware Company was founded in 1989. For many years, we have always insisted on the quality policy, "customers first, quality first," and upheld the spirit of enterprise, "professional integrity, sustainable development." In addition, we serve our customers with our business philosophy, "superior products and comprehensive services," and are striving to continuously improve our products. Now we have an experienced team of product developers and mold designers.
In 2003, we successfully passed the ISO-9001 international quality accreditation. We believe that a comprehensive implantation of ISO-9001 will allow us to complete our internal management system, and further improve the quality of products, reduce costs and achieve the purpose of increasing market competitiveness. To have extended our operations in a solid foundation over the past twenty years and we are dedicated to providing our customers with high quality, excellent products and professional services, and also applying professional management to improve our technology, leading quality and status in the industry.
Therefore, in order to implement our business philosophy, "quality, service, integrity and efficiency ", from mold design, production and quality control, to shipping finished products, we always serve our customers with our best service. In the future, we will continue to provide our first-class quality product, first-class service, and first-class reputation of the company to win more valued customers, and welcome the opportunity to work together with you in a glorious future!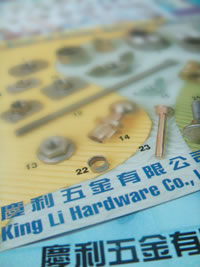 Business Philosophy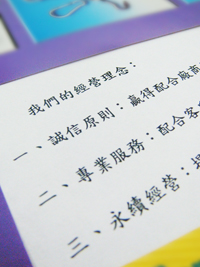 During the company growth process, we realize that the key to success is effectively to use the wisdom and abilities of employees and to inspire employees' potential and thus to make the company achieve the goal. It should establish a common company business philosophy as the highest guiding principle and an important indicator of cohesion, such as employees' loyalty, not just to proceed from the company's management and organizational structure.
In view of this, we think the business philosophy must be placed in the forefront of all company activities to guide and inspire employees' strengths. Founded on the concept with the same target for all the employees, the company is able to integrate resources. Thus, it enables the company, because of the employees' contribution, to achieve a greater contribution to society; at the same time, employees have completed the company's goals to achieve their ultimate personal ideal goals.
To summarize, we attributed the company's operating philosophy mainly as follows:
1.Principle of good faith: to win the support of manufacturers and customers' trust.
2.Professional services: to meet customer needs with a variety of products and provide professional consulting and services.
3.Sustainable development: to provide competitive quality and prices, create maximum profit for customers, and achieve a win-win situation.
Quality Policy
"Insisting on quality" is the key to our success. To satisfy customer needs, product quality is always the constant pursuit of the objectives of our company. The quality is the prerequisite of our company for sustainable development management. The Company, through ISO-9001 quality management system implementation and continuous improvement, provide our customers the most secure and reliable products and the most professional services.
We, through accumulation of development and manufacturing technology, produce superior quality products and provide overall quality services to fully meet customers' needs. We deeply understand quality assurance to customers in our operations and development stage properties. Only customers make profit; the company is able to be sustainable. Therefore, the company's products must undergo a series of rigorous tests, and do comply with the ISO-9001 international quality accreditation norms and spirit. We implement the quality policy to research and development, molding and manufacturing in every aspect in order to produce the high quality and reliable end product.
Meanwhile, all of our employees must fully understand the significance of ISO-9001 and the quality policy, and be committed to quality management from the root. In addition, all employees working in our company will consider improving quality as the most essential task. In brief, our company upholds the ISO-9001 quality policy, "customer first, quality first" as the highest spiritual discipline. We apply the most stringent technical standards to create the most superior quality, offer comprehensive sound service, and constantly innovate and improve our products to meet the customers' ultimate needs.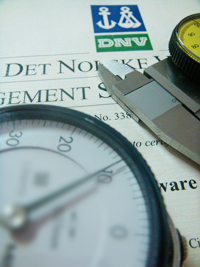 Quality Accreditation
In 2003,We successfully passed

the ISO-9001:2000

International Quality Accreditation

and it's present edition is ISO-9001:2008